Enozo Pro Sanitiser Bottle (Covid19 Essentials)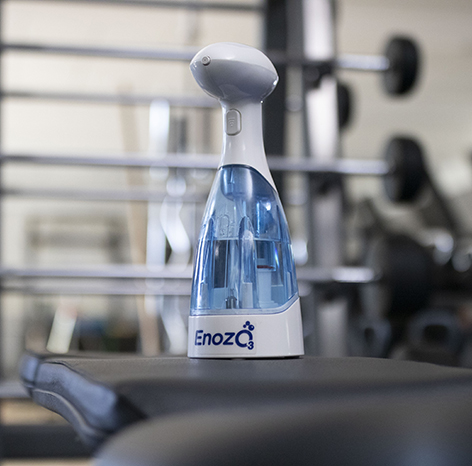 Turns ordinary tap water into 100% natural sanitiser. See it action below.
(Price shown excludes VAT - added at checkout)
Cleans, deodorizes and sanitizes
• No harsh synthetic chemicals or fragrances added
• Leaves behind no harmful residue
• Removes odors
• Sanitizes in just 30 seconds
• Kills 99.9% of bacteria and common viruses including E. coli, Salmonella, MRSA, Legionella, Listeria, and more
• US and European certifications
APPLICATIONS
– Antimicrobial
– Glass cleaner
– Hard surface cleaner
– Grout cleaner
– Deodorizer
– Carpet Spotter
1 Enozo Pro spray bottle = 2,730 litres of ready to use sanitiser.
No added detergents or harmful chemicals to be
mixed, stored or discarded

A 100% natural, all purpose cleaning and sanitising
solution that works faster and more effectively than
environmentally harmful chemical cleaning solutions.

Activated Water is produced the moment
the user needs it by simply pulling the trigger.
The trioxygen in the Activated Water is 100%
natural and occurs in the atmosphere as ozone.
Recommended for ongoing cleaning cycles in your business premises, following a rigorous cleaning and disinfecting process.
Specifications
• Weight: 2lb (0.9 kg) • Dimensions: (w x d x h) 4" x 4" x 10" (10 cm x 10 cm x 2 5 cm) • Water Reservoir Capacity: 14 oz (400 ml) • Water Temperature: 40°F (4°C) -104°F (40°C) • Bottle Battery: Lithium Ion 7.4V 1.8 Amp-hr • Charger Battery: 100-240 AC 50/60 Hz
Certifications & Standards: UL / CSA; FCC; EPA Established • ROHS
European Ozone Trade Association